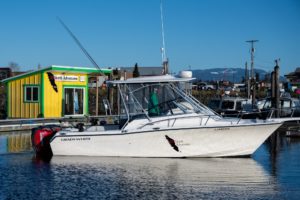 The Beginning
Like any small business you have a 5 year plan and you do your best to A; make the plan and B; to execute the plan to the best of your ability. When I set up 50North Adventures here in Campbell River back in 2016 on a limited budget, I new that we could offer something unique and special to the local tourism sector. I wanted to show the world everything this amazing area has to offer, salmon fishing, humpback whales, orca whales, wild life and the remote islands. The reality is, you can't do it all with out making a few mistakes and altering course.
At the end of every season i do a review and then hopefully I did enough to survive? then focus on the new season ahead.
2016 had us on the map and the believing we were on the right path with the tours we offered and the brand that was being created. Campbell River as a destination was still known as the Salmon Capital of the world due to the 5 species of wild salmon in the waters and the whale watching sector was still focused on finding Orca. I made the decision to change marinas, so we relocated from the Discovery Coast marina to the Discovery Harbour marina. It is the largest marina here in Campbell River and has better weather protection for the boat all year round.
Big Decisions
In the middle of the 2017 season I had a boat owners worst night mare and blew an engine during a tour. Thankfully I was able to redirect our bookings to other operators for the remainder of the season and made a few really good relationships along the way. Although it was season ending, this gave me time to really define our services. I was excited and confident moving forward into the new season with 500 new horses ready to go.
The 2018 season was our first full season operating as a tour company at the Discovery Harbour marina and I was able to fine tune our fishing charters due to great numbers of running salmon. And with the return of the Humpback whales to the area for the first time in many years, I could adjust the whale watching program as well. Owning a family run small business with 2 young girls, you quickly learn what it is like to be a "travelling family" with young children. I know how hard it can be at times to keep them entertained and engaged. I also know how important it is to a parent knowing that it will be safe for the family and a fun experience for all.
Ticked all the boxes
In 2019 I knew we had something different. The main focus for 50North Adventures was to specialize in small groups and families. We had our little "Aussie Shack" office built, creating our new home on the dock. The office has given us a physical location making me easier to find, meaning no more meeting guests in the car park, or I am the one wearing a black cap at the top of the ramp! Plus I have somewhere for all of the equipment to be stored rather than leaving it all on the boat. We had another great season with fishing, whales and custom tours into Desolation Sound. Moving forward into 2020 I created our combined Fishing & Whale watching charter. Now you get to do salmon fishing and hangout with the whales on the same charter.
The 2 year Itch Bug
2020 the world Changed! I am so grateful for my wife Rosalind and her ability to support me. As a business owner and as a husband I personally needed the free therapy from my Psychologist wife. Survival became the focus. Suddenly the marine operators had to get on "ZOOM" calls and navigate this storm as a united front. We experienced a small 5 week season with no international and minimal domestic markets. Thankfully we live on Vancouver Island and the provincial support helped us to survive 2020. Keeping people safe was our priority and I stopped doing any mixed groups of guests not know to each other.
When 2021 rolled around it became painfully normal to say "It is what it is". I had to adjust the marketing strategy thanks to minimal marketing dollars to spend from 2020. In a normal year I would attend the Out door adventure trade shows in Alberta and Ontario and do some local print advertising. The large events were closed down and travel was still restricted for all markets. Our season was lengthened a little from the previous 5 weeks to 8 weeks. The focus became digital. "Content is King", so watch this space!
I burnt lots of fuel, flew drones and loaded up hard drives with footage.
Game On
I teamed up with my good friend James Kay from DHT Productions and now we have a new digital plan moving forward into 2022. Lots of fun with this. I also acquired the professional services of Level Up Web Design Ca and love the way Amelia Chida has helped take our websites ranking to another level. It is so important to have good honest people who are skilled in their field on your team. Google and analytics are a mine field for a small business and defiantly not a strength of mine.
Now its time to reload from 2019. For the most part we are all excited to travel again and see smiling faces in 2022. The Out Door Adventure travel shows are back in full swing. It was weird and amazing being around crowds again at the Vancouver and Calgary shows a month ago but life must go on. I have the Toronto show in a few weeks and the feel in tourism is exciting once again. So we made it to the beginning of another year and another new chapter for 50North. Our charter list this season remains the same for 2022.
4hr Fishing charters – 3hr Whale watching – 4 hr Island Tours – 4-6-8 hr Custom private charters and of course our most popular and best valued charter is the 4 hr Combined Whale watching & Fishing charter.