'The salmon capital of the world'
50North Adventures is equipped with all of the professional fishing gear you need for your "BIG" Salmon or bottom fishing experience.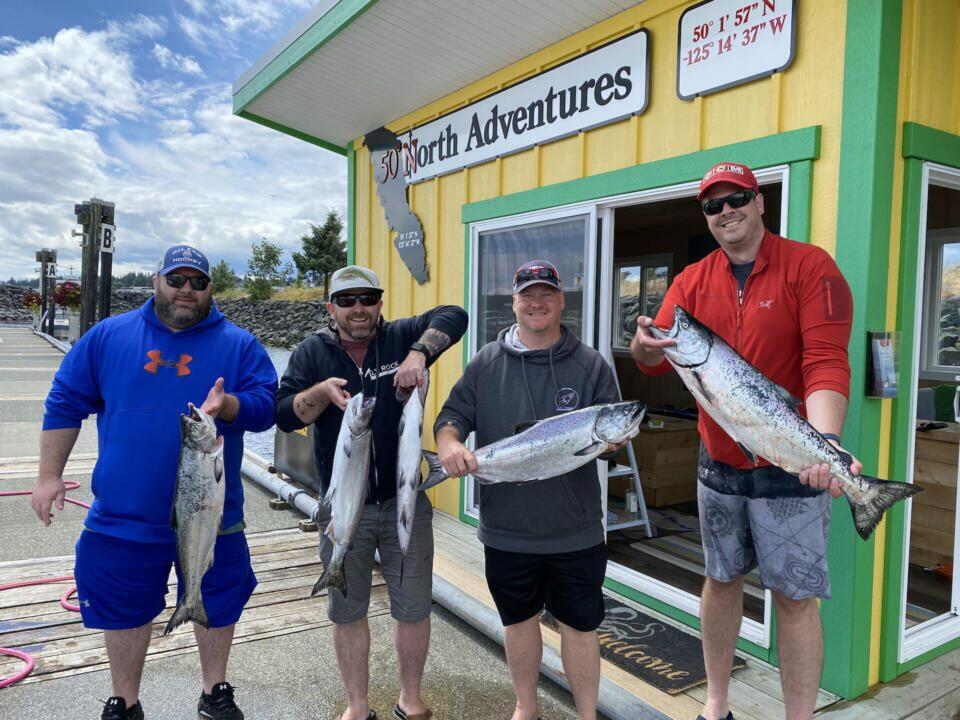 Vancouver Island fishing charter for small groups! 
We offer a minimum of 4 hour fishing charters with the option to extend. If you were looking for a full day fishing charter you have the option to split it into 2 blocks of 4 hours for the day.
By doing this you get to fish the morning and the evening tides and you also get to have a break for lunch or have a nap before you get back out on the water.
Our inland waters are protected from the Pacific Ocean swells of the west coast, making for a comfortable and safe ocean fishing experience.  
The waters off Campbell River host 5 species of wild pacific salmon as they pass through on their migration back to the local rivers where they were spawned years before.
Known as the salmon capital, 50North offers the best Vancouver Island fishing tours for families and for anyone wanting to experience the thrill of the salmon fishery.
Chinook salmon (AKA Spring or King) can be caught all year round, but are most plentiful in June through late August as they move down Discovery Passage and the Salish Sea to feed on the Pacific herring and krill. 
Pink salmon arrive in July followed by Sockeye salmon in August and it's 'game on' with these species until mid September, when most have returned up stream to spawn and are replaced by the northern Coho and Chum salmon.
These species are fished well into October and from then on it is the Chinook salmon know as 'feeders' for the winter months until the following spring. 
The Bottom Fishing is always fun with catches of Ling Cod. A beautiful table fish with a cold beer or a chilled white after any day on the water.
If you are staying somewhere and don't have the facilities to cook? no problem as there are a few restaurants in town that will cook your fresh catch for you. They do charge a fee and it will also depend on restaurant availability. 
Everyone fishing requires a B.C Tidal/Salt water fishing license and the salmon Conservation stamp if you want to keep your catch.

Your B.C tidal fishing license MUST be purchased on line before you arrive and please make sure that you have it dated for the date of your fishing charter. 
Please remember to bring your license with you on the day of your charter!
It can be down loaded and stored on your phone and email.
You must have you license with you when fishing.
Fish processing and shipping of your catch can be arranged locally here in Campbell River if you require it.   
(See below for 2023 Rates & License links)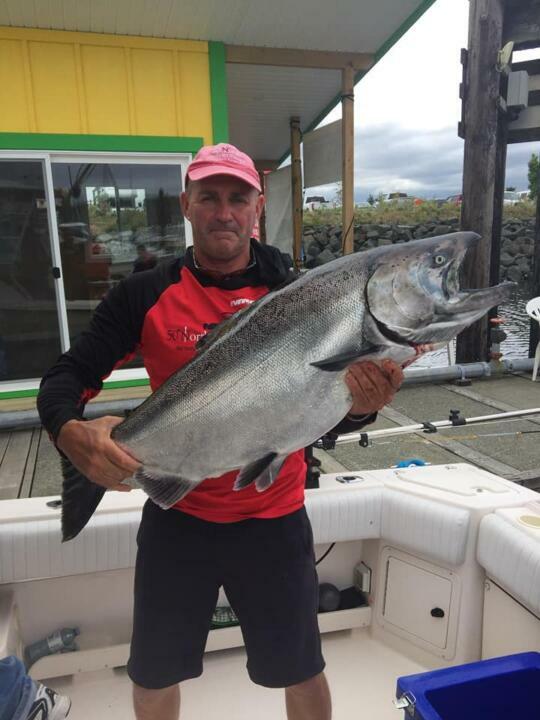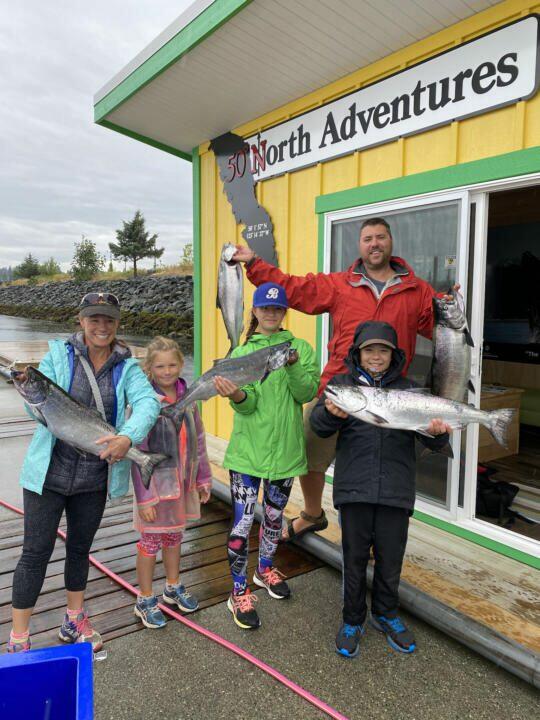 2023 Rates:
 $155 per hour with a minimum of 4 hours  (not including taxes) 
Taxes 15% (GST & Fuel Levy) 
 Based on the boat per hour not per person per hour!  
Maximum of 6 people 
Beautiful covered boat with open cockpit and deck spaces 
(Grady White 265 Express Sport Fish)
Full wash room & toilet facilities 
Forward cabin for young kids to play in 
Professional & traditional fishing equipment supplied

Islander TR3 & MR3 combinations – Left & Right handed  
 Fish cleaned & bagged to take with you 
Complete fish processing and shipping can be arranged here in Campbell River 
(High Tide Seafoods or Saint Jeans – 5min from the marina)
8 Hour charter option can be split into 2 blocks of 4 hrs – Offering different tide times to fish
We can cater for larger groups by using our preferred professional partners with similar boats and standards
Ability to extend beyond the 4 hours at the hourly rates – If available on the day? 
Breakfast & Coffee is available for the early birds at the "Snack Shack" located at the marina 
Opens at 05:30
All Prices in Canadian dollars
Check Exchange Rate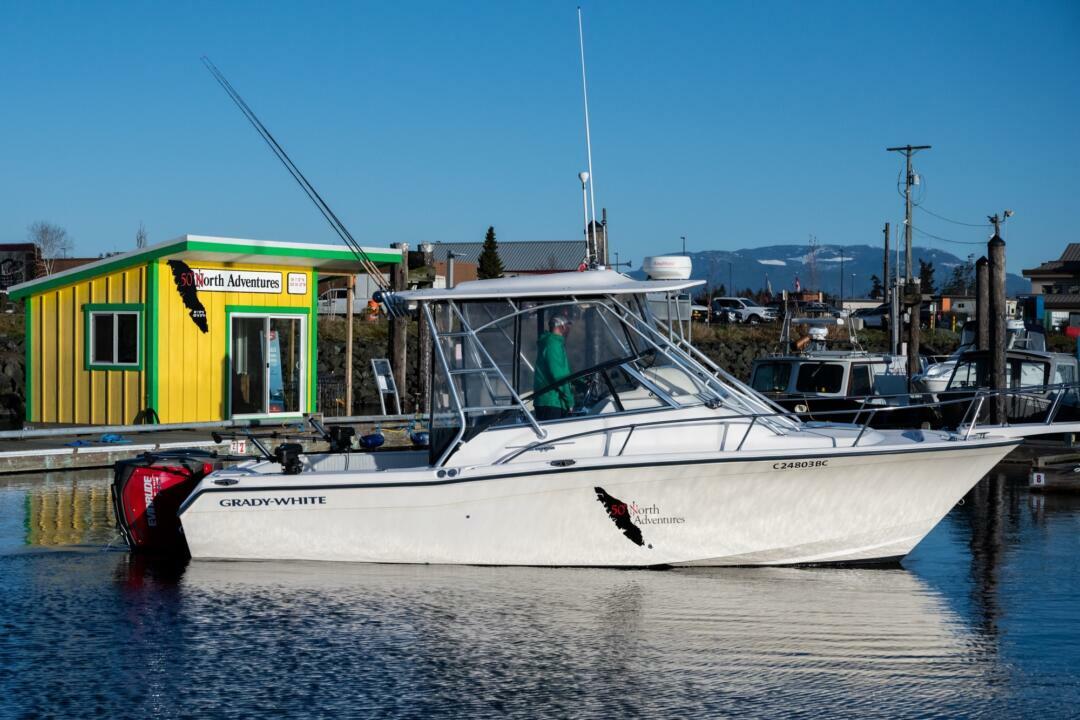 Book your adventure today with 50North Adventures!
2022/23 Tidal Waters Sport Fishing License fees in B.C
(GST not included)
| Type of License | Resident | Non-Resident |
| --- | --- | --- |
| Adult annual (16 – 64 years of age) | $21.85 | $105.07 |
| Senior (65+) | $11.44 | $105.07 |
| 5 Day | $16.65 | $32.25 |
| 3 Day | $11.44 | $19.77 |
| 1 Day | $5.47 | $7.28 |
| Salmon Conservation Stamp | $6.24 | $6.24 |
| Juvenile (Under 16 years of age) | FREE | FREE |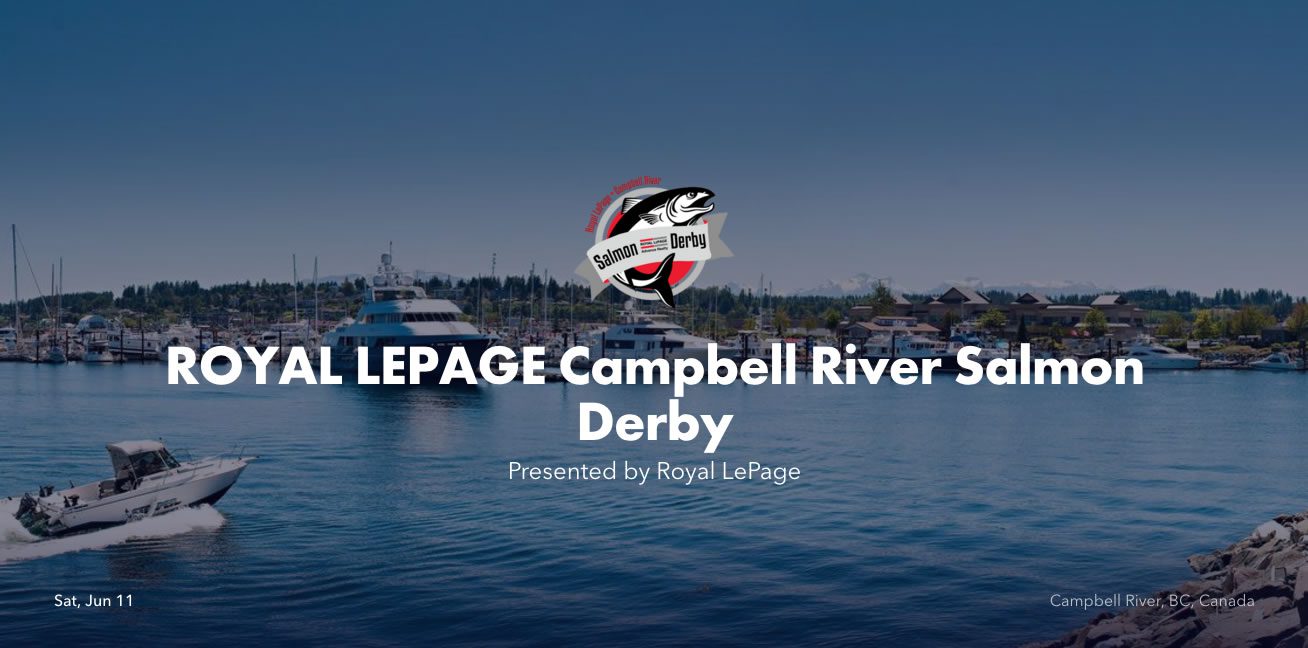 50°North Adventures would like to welcome aboard Chris Johnstone and his crew from Freedom 55 Financial Vancouver Island for the 1st annual Royal Le Page Salmon derby. Looking forward to the big day and hopefully that big $5000 fish! On Saturday, June 11, 2016, Royal...